Skip to Content
Explore
Things to Do in Montauk
See Montauk
Like a Local
We've had a front row seat for the evolution of Montauk from sleepy beach town to summertime hotspot. (Fortunately) getting here is still a trek…but you're rewarded with an unparalleled landscape that still feels untouched in places. Local institutions remain for those who are looking for an authentic experience, but the influx of people has brought with it some great new dining and shopping experiences.
Things to Do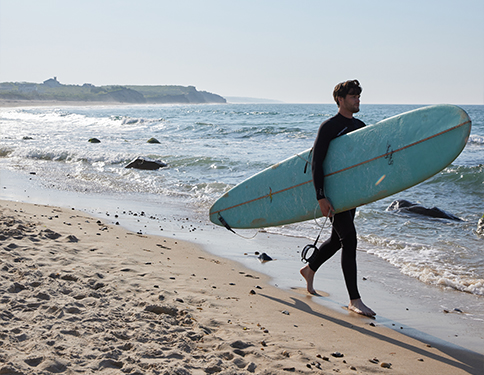 The Great Outdoors
There's no shortage of outdoor things to do in Montauk. Surfing is the obvious choice, but you can also choose from amazing hikes, bike trails, kayaking and stand up paddle boarding, and fishing. These are our favorite local outfitters to help you gear up for a day outside.
Beaches, Trails & Ponds
Where you surf, hike, cycle, kayak, or SUP is up to you. But we think these are the most beautiful spots on the East End.
Ditch Plains
Gin Beach
Shadmoor State Park
Paumanok Path
Amsterdam Beach Trail
Hither Hills Trail
Point Woods Loop Trail
Fort Pond Bay
In Pursuit of Classes
If you prefer your daily fitness dose in studio class form, we love:
Sips & Bites
Here are just a few of the places you'll find us kicking back for great food and cocktails around town.
Shop Local
If you've experienced it, you know that shopping Out East can be an all-day adventure. We're lucky to have some amazing local shops right around the corner from Daunt's—giving you more time on the beach and less time in your car.
Shop for lifestyle at Bird on the Roof, Below the Blue, Beach Taun, and NIBI MTK
Hunt for vintage at Mako's Vintage, Deep Blue Vintage, thriftknd, and Wyld Blue
Pick up MTK logo gear at Whalebone, Montauk Clothing Company, and Montauk T-Shirts
Stock up on board shorts at Greenlines
A Short Drive Away
If you feel like a drive, head down the road to Amagansett and enjoy local seafood at Il Buco al Mare, tacos at La Fondita, and seasonal cuisine at bohemian Wölffer Kitchen—or shop the latest from cult brands like Sabah, Clare V, Noah Hideout, Il Buco Vita, and Love Adorned. If you're heading to Sag Harbor for the day, check out Sylvester & Co, Jayson Home, Sunny, Matta, and Hudson Grace.