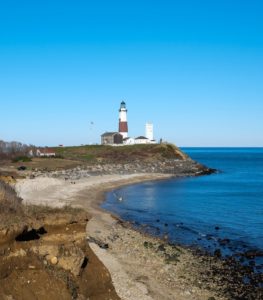 For years, Montauk has been known as a summer destination – a place to relax, party, dine, and explore. That's not all Montauk has to offer though. Montauk in the off season is a whole new experience – a chance to escape chaos, submerge into nature, enjoy cosy nights in, and all the locals have to offer. Fortunately, our family at Daunt's Albatross stay open year-round with special offers and deals to allow you to come and enjoy the experience.
WHAT'S HAPPENING AT THE ALBATROSS?
Get in the Christmas spirit this off-season by staying with us at the Albatross, where you can enjoy some off-season specials.
Pay 2 nights, get 3rd night free when you book directly through us…yes please
Free bottle of wine when you subscribe to our newsletter and book a room…because who doesn't love wine?
Off-season worker special rates…you all work hard enough, so let us help out.
Don't forget to check-out our Enchanted Christmas Village and decorations when your come by!
WHAT TO DO AND SEE IN MONTAUK RIGHT NOW!
Keep them eyes and ears opened this off-season and take full advantage off all the upcoming events. Below are a few events that caught our eye over at the Albatross.
Christmas Events/Activities
December 1st
Santa Parade through Main St East Hampton @10am, followed by a meet & greet with Santa @ Rowdy Hall @ 11am
Christmas Tree Lighting in East Hampton between 4-6pm
December 7th
Jingle Bell Hop Benefit @ Salivars where you can enjoy raffle prizes, live music, a hot buffer, happy hour prices and much more. Admission fee.
December 8th
Citarella Gingerbread House Workshop at Guild Hall, East Hampton @ 11.30 am
Throughout the season
Visit Montauk's Lighthouse where you can enjoy a spectacular festive scene
Cinema & Movie deal with Rowdy Hall where you can enjoy selected meals and a cinema ticket for $20
Bowling & other activities at the Clubhouse in East Hampton
Hikes & Trails
December 8th
Seal hikes at Montauk Point State Park @ 1pm where you can discover seals in their natural environment through a series of walks and hikes.
December 15th
Rod's Valley Ramble by East Hampton Trails Preservation Society @10am
Our favorite spots
Shadmore State Park
Walking Dunes
Hangar Docks
Just pop into the front office where we can point out any of these trails for you!
Wine & Dine
Nothing kicks off the Christmas season like a good meal and bottle of wine. Fortunately, there are lots of affordable options in Montauk and the surrounding area. Here are a few of our favorites.
Harvest on Fort Pond
Italian family-style cuisine complemented with a selection of $20 bottles of wine
Muse @ the End
Enjoy live music as well as an early bird prix fixe menu between 5.30-6.30pm daily
Indian Wells Tavern
Fajita & Margherita specials on Wednesday nights
Bobby's Van
$27 menu for appetizer and entrée Sunday-Thursday
Fresno
Two courses for $30 or three courses for $35
1770 House
$17.70 entrees every Thursday in the Tavern
That's it for now from us at the Albatross. Hopefully we will be seeing some new and familiar faces over the next couple of months. Stay tuned for more of our posts to come.
From, The Daunt's Albatross Family
Side Note: Pretty cool pictures throughout, right? These were all taken by one of our in-house workers, Ian Cooke. Click here and check out the rest of his work.